English and Chinese correspondence!
(currently preparing Korean!)
We may require some time for other languages, but please feel free to reach out to us
Do you have these issues?
Japanese market analysis: Lack of knowledge in sales and distribution system construction in Japan.
Budgeting: Preparation is costly and cost simulation is difficult.
Business relation with Japanese companies: Eager to do business with many trading companies to establish a system but concerned about communication.
Market penetration: Want to enter the EC market in Japan, but cannot start easily because there are so few options.
Business communication: Worried about Japanese correspondence for each inquiry.
ONCE provides one-stop solution for overseas sales.
What is a one-stop solution service?
One-stop service from import and customs clearance, domestic logistics in Japan, order processing, and customer support.We help overseas companies conduct e-commerce in Japan.

Please feel free to contact us
We can support various business contents!
1.Business scale

We can handle everything from small to largeshops. You can also use it for test marketing!

2.Products

We can handle a variety of products from smallproducts to large products, food products, etc.

3.Various sales channels

We can also support sales at major malls suchas Rakuten, Amazon Japan, FBA, and YahooJapan, as well as your site.

4.B2C/ B2B transactions

We can handle both logistics for individualsand logistics for companies. You can also useboth simultaneously!

5.Temperature range

We support normal temperature, frozen andrefrigerated!

6.Transportation

You can choose from the three major carriers in Japan - Japan Post, YamatoTransport, and Sagawa Express. We will guide you to choose the optimaloption from home delivery to postal delivery depending on your product.

7.Asuraku / Prime

We handle 12 o'clock deadlines for Asuraku /Prime Asuraku.

8.Warehouse Location

Our warehouses can handle the 2 areas of Tokyoand Osaka. We will propose according to yourrequest. We will help you choose the optimal area.
What can be solved with ONCE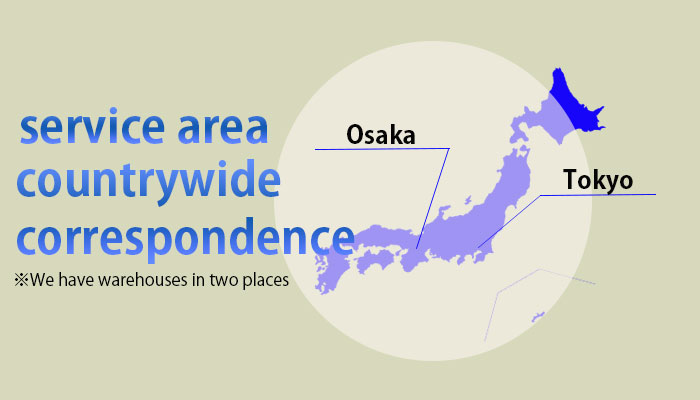 ONCE has a support system that makes confident to the companies to start selling in Japan
Customs support for sales in Japan

ONCE handles complicated processes while importing cargos - 
1.Administrative procedures, like customs clearance, compliance, and regulations documents, etc.
2. Furthermore, the cargo must be properly packed for safe transport and regulatory standards.  
3.Utilizing the know-how of logistics outsourcing, we provide the provision of smooth and efficient services by linking multiple systems, such as our warehouse, distribution processing, and our unique WMS system.

Reliable domestic logistics business

We accept the goods that have entered Japan, inspect them, store them in the warehouse, and take care of the logistics business- from storage to shipping. Utilizing the logistics know-how, developed as an outsourcing professional and a proprietary system, we will provide safe, speedy, and more satisfactory high-quality services.

Customer support system

We also conduct time-consuming operations such as order processing, shipping processing, delivery completion notification to customers, and payment confirmation. We provide a speedy and smooth service that does not stress-out buyers. Also, we listen to the voices of customers, undertake customer support, and accept the returns of goods under the policy.
We have a track record of domestic EC logistics.
We help companies with various sales channels such as Rakuten,Amazon, and company websites.
Please feel free to contact us
We also support products requiring temperature control from room temperature to
freezing and refrigeration.

Apparel / daily goods / miscellaneous goods / beauty cosmetics / toys / furniture /
storage furniture / fabrics and cloth / prints / flowers / bicycles and parts / sweets /
frozen foods / fruits etc.
※Hazardous goods, raw items, and items that require assembly cannot be handled.
01.Speedy shipment correspondence

"Want to ship purchased goods as soon as possible."
"Want to sell faster than rival stores."
These are the concerns we hear most often.
We will work together to meet these challenges and accelerate sales.

02.Realize stable logistics

"Does shipping error will increase if shipping volume will increase suddenly?"
No. These two are not equal.

03.Capacity excess correspondence

Suggestion: separate sentences
"Distribution cannot keep up despite the increase in shipping volume."
"We outsource, but your partner does not respond to the shipping amount."
We will solve such worries together.

04.Reliable support system

Providing one-stop service from order receipt to shipment, Stressless customer service along with a smooth money transaction process makes customer satisfaction level high.
Please feel free to contact us
We will ask you for details for each case and propose an estima te.
Domestic logistics
・Stronge(space usage fee)
Piece charging system and area (tsubo)
system can be selected (1 tsubo = ㎡ )
・Storing (piece unit)
・Delivery (piece unit)
・Packing (packing unit)
・Devanning (container unit)
・System usage (monthly fee)
・Product return correspondence (per unit)
・Set work (set)
・We can also handle other miscellaneous work

Order processing
Marine transportation /import customs clearance
We will hear detailed informationand propose an estimate.

Contact us
Hearing
Quotation
Agreement contract
Implementation
Start
You can start in 1-2 months! Please contact us at your earliest convenience.